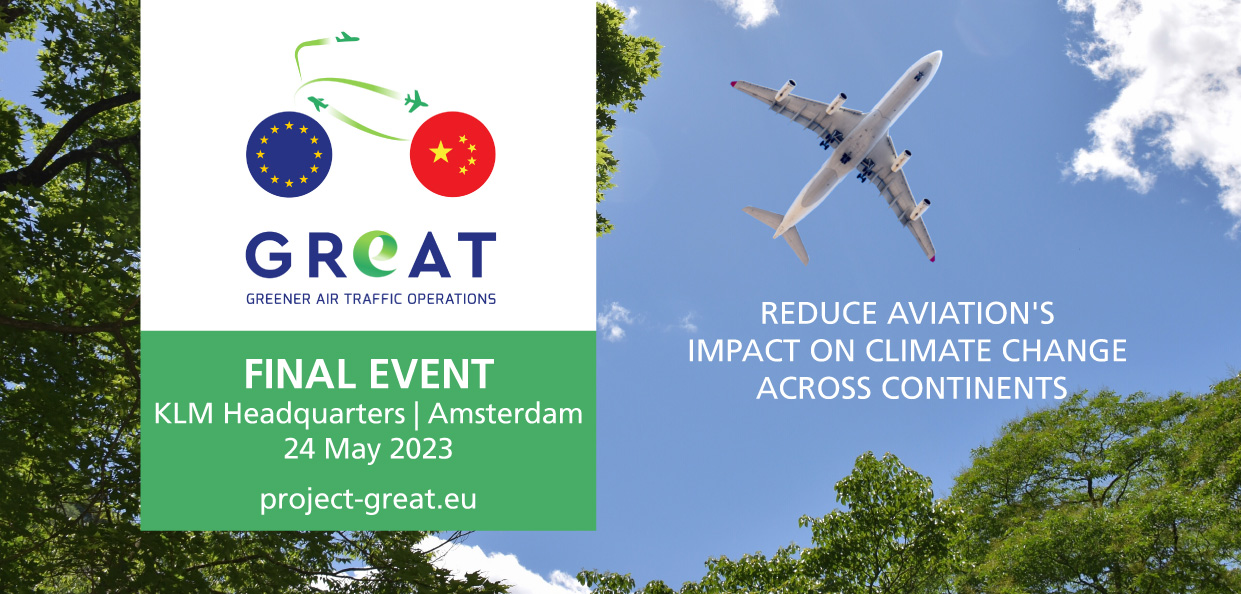 GreAT (Greener Air Traffic Operations) is a Horizon 2020 research project that focuses on optimising air traffic control practices and procedures to minimise environmental impact. The final event of the project will be held on 24 May 2023 at the KLM headquarters in Amsterdam. All interested are invited to participate. Attendance will be possible in person as well as online.
Since the beginning of 2020, partners from Europe and China have been investigating various concepts and concept elements that enable or contribute to a "Greener" Air Traffic Management, including arrival / departure procedures at medium-size and hub airports, but also taxi operations on the airport surface as well as en-route traffic management. This research also included experiments to demonstrate the benefits of our ideas in a set of fast-time and real-time simulations.
After a project runtime of 42 months, the Horizon 2020 project comes to a close in summer 2023. This final event, that addresses all interested external parties, will provide deeper insights into the findings of the research work and showcase the key concepts and proposals. Two major European partners of GreAT, namely DLR and HungaroControl, will present new concepts and procedures for environmentally friendly yet efficient traffic management in the terminal area of medium-size and hub airports.
Participation
The final event is aimed at the interested public and is is free of charge.To prepare the event in the best possible way, please kindly confirm your attendance (including full name, organization, email address, online or physical attendance and the car license plate, if applicable).
Please send your registration by email to contact@project-great.eu by 5 May, 2023.
The physical event is limited to 50 persons. Online attendees will receive a link to the live stream one day in advance.
We remain at your disposal for any further questions: contact@project-great.eu.
Event Location
Amsterdamseweg 55
1182 GP Amstelveen
The Netherlands
Agenda
09:00 Welcome (KLM, DLR, CINEA)
09:25 Introduction to GreAT project (DLR)
10:00 DLR experiments incl. environmental impact assessment (DLR, UPM)
12:00 Lunch
13:00 HungaroControl experiments incl. environmental impact assessment (HungaroControl, UPM)
15:00 DLR and HungaroControl demonstration tours (DLR, HungaroControl)
16:00 Coffee break
16:30 Summary of other findings (DLR)
17:00 Conclusions (DLR, L-Up)
17:30 End